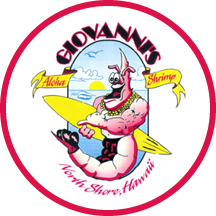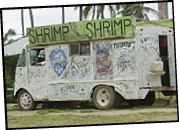 Giovanni's started operating out of a converted 1953 bread truck without much more than a few recipes for great shrimp and an entrepreneurial spirit. We drove our beloved truck around the North Shore stopping along the side of the road for a couple hours at each stop to share what we thought was some pretty special food- turns out, we were the only shrimp truck around. Locals took notice and word began to spread about the delicious shrimp…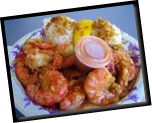 In 1996, we decided to park the truck at 56-505 Kamehameha highway in beautiful, historic Kahuku town. In 1997 we opened a second truck on the edge of what was then an overgrown, swampy field at 66-472 Kamehameha highway in Haleiwa town. Back then, no one wanted that land, now it's one of the busiest spots in Haleiwa! Our truck there will forever be known know as "Across the street from McDonald's". Now that we were parked, our guests started to sign our truck so they'd be sure and see their signature the next time they visited!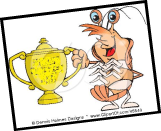 We started to enter national and international food show contests for our delicious and unique recipes. We have won multiple awards for our Hot & Spicy sauce and our Scampi Marinade!
Word of mouth grew from locals and tourists alike and we had to retire old Bessie and get a new truck.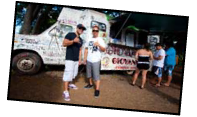 In 2006, Giovanni's became such a part of the community that we purchased the land we were parked on and in 2010, we built a pavilion, so patrons and visitors could enjoy our shrimp, the weather and each other. We will be proud to serve you for the next 20 years and beyond!